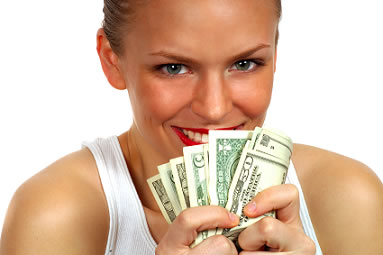 Many of us have to deal with credit card, car, rent or home bills that are due at different times every single month. We usually get by, but every now and then we get caught in a bind where we have several bills due at once, but don't get paid for another couple days. Often a victim of this predicament, I've found that payday loans are one of the easiest and most convenient ways to cover your bills in time. Payday loans are simply very short term loans, they're meant to cover your immediate expenses with the idea that you'll pay the loan back at your next paycheck. The loans come in different increments, you can usually borrow any amount up to $1,000. There are thousands of payday loan companies out there, they may differ in how much of a loan you can borrow, how much time you have to pay the loan back, or how much of an interest rate is tacked on to the loan. These days, you can even apply for a payday loan online from your own home and have the money sent to your bank account almost instantaneously.
How Do Payday Loans Work?
One of the reasons payday loans have become so popular is due to how easy of a process it is to get them. Typically you would go to a payday loan office with some necessary identification, a couple paystubs to confirm your employment, and a bank account statement. As long as you're 18 years of age, that's really all that's needed to get yourself a payday loan. Once you've gone to the office and filled out the required paperwork, your lender will provide you with the cash right then and there. Depending on the company, the amount of cash you can take out ranges from $100 to $1,000. Of course, there will also be some interest added to your loan. Each company differs in their interest rates but you can expect it to be anywhere from 10% - 35%. Some lenders may ask that you write them a check for the amount of money you've borrowed plus accumulated interest, then they'll cash the check after you've gotten your next paycheck.
This Sounds Like Every Other Loan, What The Difference?
The difference between payday loans and other types of loans is that you can get your money in cash at that very second. No other service offers this advantage, some credit unions have attempted to offer similar terms but have so far been unsuccessful. Payday loans also have a very short length compared to other loans, they're almost always due in two weeks or less, though some companies may offer payment plans. As you can see, payday loans have great advantages over other forms of loans, you can always count on them to get you out of a jam. With their availability online now, getting the money you need has never been easier.

Additional Resources: