Even though we've hit some snags, we're hoping to launch a brand spankin' new Payday Loan Affiliate by the end of Q1 2007. The current design is a little busy and to be quite honest I don't think we ever intended it to go as far as it did in the SERPs, which is why this quirky little-website-that-could was allowed in the first place.
With that said, what should a webmaster expect when redesigning a website? As luck would have it, I have a few suggestions…
Rule One: Design for Your Primary Consumer
Once upon a time Payday Loan Affiliate was launched with one intention – help our clients make money. As time passed links, blog posts, and other marketing efforts began to pile up and wouldn't you know it… we now have a growing audience of payday loan clients to serve. Our original index page is too confusing for a payday loan client (the keep it simple rule most definitely applies in this industry) so it turns out we are hemorrhaging potential revenue big time.
This new redesign is now more geared toward a payday loan client, and relies on our savvy affiliates to do a little more digging in order to find the information that pertains to them. Is this okay? Sure! It's just the hazard of serving two masters, but the key is to understand how each one thinks. Payday loan clients have little patience for content that doesn't immediately pertain to them, whereas your typical business development person is more likely to search around a bit. Here are some previews of the soon-to-be design: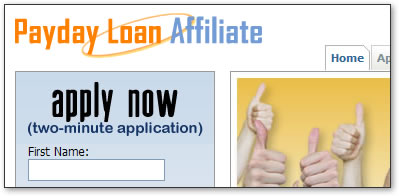 The payday loan application form is prominent and immediately visible.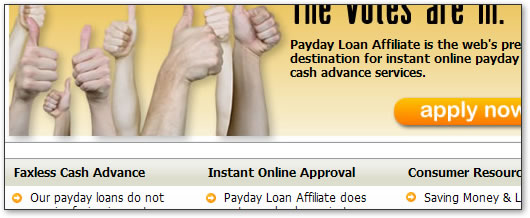 The first round of content is relevant to the group of people who are the most likely to balk.


Site navigation breaks down your primary functions, again in the order of most sensitive to least.
Rule Two: Keep Your Text as Constant as Possible
You might be tempted to change your text around a bit, but this urge must be controlled as tightly as possible. Too much change will set off a search engine, no question… so leave your keyword density intact if at all possible. Instead, phase in copy changes over a couple of months and let the spiders adjust over time.
Rule Three: Clean Out the Junk
Most websites have a lot of little tiny junk pages that accumulate over time. Failed experiments. Lost initiatives. Example pages. Unused comps.
Get rid of it all!
These pages, images, and miscellaneous others have the habit of showing up when a new look is rolled out, so I suggest being proactive by going through each file to ensure a nice & clean file structure.
Rule Four: Redirect Dead Pages
If you do go on a massive cleanup spree, be sure to use your 301 redirects where appropriate. One of the unintended side effects of a redesign is the sudden disappearance of old content, so it's important that these old pages are accounted for somehow. You never know who might have been linking to them, so take advantage of that link juice and 301 it to a relevant location!
Rule Five: Site Command, Site Command, Site Command
Keep an eye on your website using the site command relatively often. I usually take inventory of what each of the Big 3 thinks of my site pre and post, comparing and contrasting page positions, descriptions displayed, and most importantly the pages that disappear. If they did disappear, I check to see that they are being linked to or 301ed, depending on my intention.
It usually takes a month or two for the site command to fully make sense of your new design, so don't stress out if it's only been a week and it looks like everything went to hell!
Rule Six: Expect Downtime
Always, always, always plan on downtime when posting a redesign, no matter what. You will likely see your site disappear from the search results for a bit, so it stands to reason that you ought to post a redesign during an off season. Summer usually works best for payday loans, since that is when traffic tends to be at its slowest, so keep your industry's traffic patterns in mind before you go through with any material changes!
- Blumey