How to build a short version of the cash advance application form is one of the most common questions we get from affiliates old and new. We've finally standardized the form code needed to transfer data from your site to our secure cash advance processing application, so here you go:
<form action="https://www.paydayloanaffiliate.com/Affiliate/App/apply.aspx" method="post" name="frmApply" id="frmApply">
<input name="campaign" type="hidden" id="campaign" value="WEBSITENAME">
<input name="affl_id" type="hidden" id="affl_id" value="12345">
First Name: <input name="q1" type="text" size="15" />
Last Name: <input name="q3" type="text" size="15" />
E-Mail: <input name="q4" type="text" size="15" />
I have a regular source of income.
<input type="checkbox" value="Y" name="q5" checked="checked" />
I receive at least $1000/month.
<input type="checkbox" value="Y" name="q6" checked="checked" />
I have an active bank account.
<input type="checkbox" value="Y" name="q38" checked="checked" />
<input name="Submit" type="Submit">
</form>
This is the most basic form of the code of course, but you may choose to spice it up like some of our affiliates. Here's an example of two sites that have used the form in different ways: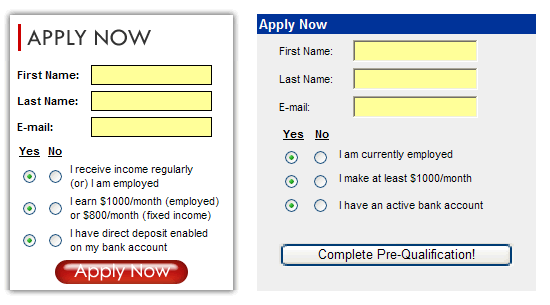 *special thanks to the folks at Power Payday Loans and Urgent Cash Advance Loans for letting me use them as an example
The form on the right is in use at Power Payday Loans, and as you can see they've chosen to make use of more graphical elements such as a fancy submit button and some shaded table elements to make their form pop out; Urgent Cash Advance Loans opted for some CSS mouseover functionality to call attention to their form when the user interacts with their page (I'd recommend visiting each site to get the full effect). Both sites used the same basic code to do something completely different, so I challenge every member of our program to take the code and do their own thing!
Modifying the Code for Your Needs
The only fields that really need to be changed are the two hidden fields up top. Swap out the id="campaign" with the name of a sub-tracking variable you want to associate with your site and then change the id="affil_id" to your affiliate ID as provided to you in your initial sign up email. (If you don't have your ID handy email me and I'll track it down for you.)
Apart from that you should be good to go – happy lead hunting!
- Blumey