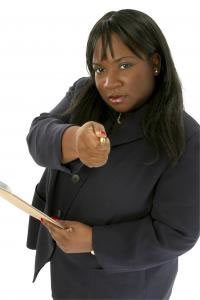 It's hard to get to all the questions we receive every day and we try to answer the ones that get asked the most often. But here's a good one we hadn't heard before, "can a payday loan company go into your account to get money you owe them?" This really depends on where you got your payday loan and that company's policies, but there are definitely a couple situations where a company can get the money from your account. Probably the most common way for a payday loan company to get their money back from you is to have you leave a post-dated check with them at the store. On the day that the loan is due back, the company will cash the check and the money comes out of your account. So in a way, the company is going in to your account to get their money back. If the money is not there, you'll probably get charged an insufficient funds fee, but they won't be able to go back in to your account later. This situation applies for most payday loan stores that you have to visit in person; however, the process is done differently for online customers. When you apply for a payday loan online, the company will usually ask for your bank account information, this way they can deposit your loan right in to your account the next business day. It's far more convenient than going to a store and waiting to get your payday loan, but it also means that they will withdraw the balance due from your account. On the day the loan is due back, the company will simply withdraw the amount from you account. If the money isn't there though, your lender will probably charge you with a fee and you'll have to extend the loan. On top of that, your bank may also charge you overdraft fees. These two situations are pretty much the only times when a payday loan company can go into your bank account to get the money you owe them.
What Should I Do If I Don't Have the Money In My Account?
If you know your lender is going to withdraw money from your account and you don't have enough there, you should contact them immediately. The last thing you want to do is pay multiple fees from both your lender and bank. These overdraft and non-sufficient funds fees can quickly add up to over $50, making it even more difficult for you to pay off your loan. Easiest thing to do in this situation is try to work out a plan with your lender. Some lenders may give you an extension if you pay back the interest on the loan, others may ask that you take out an additional loan to cover what you owe, and others could let you pay back the loan over the course of a couple months. Which ever option your lender gives you, take advantage of it and try to pay back your loan as soon as you can.
Additional Resources: